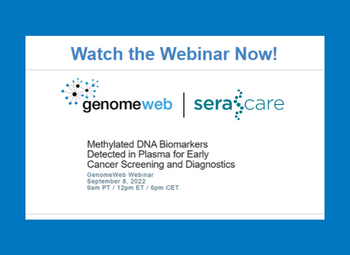 Aberrant DNA methylation patterns found in cancer tissue are seen as the first and most persistent phenotypic expression biomarkers. Consequently, there is a major translational research effort to advance cell-free assay technologies for early cancer screening and for clinical diagnostics to support patient monitoring and treatment.
This webinar brings together a panel of academic, clinical, and industry experts in the field of methylated DNA testing who will discuss the promises and challenges of early cancer screening. The panel discusses tissue plasma concordance, preanalytical variables, accurate measurement of methylated and unmethylated DNA, and the use of reference materials to help standardization.
Speaker Panel:
Dennis Lo, MD, PhD,

Director, Li Ka Shing Institute of Health Sciences,

Li Ka Shing Professor of Medicine, The Chinese University of Hong Kong

Jimmy Lin, MD, PhD, MHS,

Chief Scientific Officer,

Freenome

Yves Konigshofer, PhD,

Director of Technology Development,

LGC Clinical Diagnostics
To watch the webinar, fill out the form and you will receive an email with the content.